Buy Diwali Gifts Online For Your Friends and Family
Indians love shopping so much that they just need a reason to indulge in it. And what better reason than an approaching festival! For instance, now, Diwali is just round the corner and Indians have already started making plans on how and what to splurge on. Diwali is one of the biggest festivals of the Hindus that is celebrated with grandeur and pomp. It is an occasion where people give gifts to each other, decorate the house with lights and burn firecrackers to celebrate the festive spirit. Such is its importance that Indians living abroad in the USA and other countries too celebrate the occasion by buying diwali gifts from online diwali shopping stores and inviting friends and acquaintances over lunches and dinners.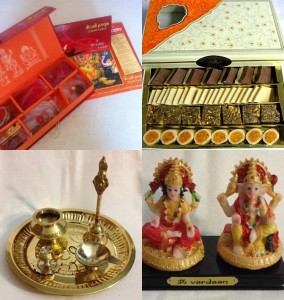 If you are an Indian living abroad, you need not feel homesick because you too can celebrate diwali by buying a wide range of items related to the festival online. Thanks to the considerable percentage of Indians settled abroad, a number of online shops have opened up, with a view to providing Indian products to them. These stores offer you the facility to buy different products online, which are then delivered to your home either free of cost or at a nominal shipping charge. Some of the common diwali items available in such stores are:
Diwali pooja kit: Usually, the festival of diwali is celebrated by worshiping Lord Ganesha and Lakshmi or Lord Kali in most homes. Now, whether you worship Kali or Lakshmi, you need some stock objects to perform the puja. In any Indian household, such objects are usually present in the home itself or can be bought easily from the market in an hour or two. However, in the US, you may not get everything in the market. This is where online shops selling diwali gifts online come into the picture. They specifically sell pooja kits because they are aware of its importance in a foreign land like USA.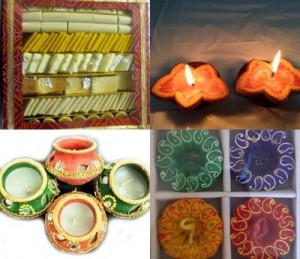 You can find everything you need in the kit, such as abir, dhoop batti, chandan, akshat, agarbatti, kamal gatta, long and ilaichi, ganga jal, diya, diya batti, kumkum, kesar, pooja pustika, panch meva, mauli, lal vastra, pooja chitra, supari, sindoor, sikka and shree yantra.
Diwali diyas: One of the trademarks of this festival is the predominance of lights so that each and every corner of the house is alighted with diyas and candles. This is one custom that is practiced by even those who do not perform any puja in their house. The good thing is that now-a-days, these diyas come in a wide range of forms, each more attractive than the other. You can buy an assortment of these in order to bring some variety to the proceedings and making your house stand apart from the rest.
Sweets: Can any occasion of India be complete without sweets? Definitely not! Sweets are mainly bought to be given to friends, family and neighbors on this auspicious occasion. The online stores offer a wide range of Indian sweets that can be bought and distributed by you.
So what are you waiting for? Buy a wide array of diwali gifts online to herald the arrival of this grand festival.