Buy Colorful Indian outfits for kids Online
During any Indian-themed occasion, whether it is an Indian wedding or some festival-related event or function, traditional Indian outfits are a must. Kids look especially cute when they wear such outfits. The outfits make them look almost like grown-ups but the sweet innocence on their faces make it an irresistible combination. To get the perfect Indian outfit for kids,you can shop online from the various shopping portals which offer beautiful designs and lots of options.
Various kiddie outfits for girls
There are as usual plenty of options for girls in general. You can choose from salwar suits of various styles to dress up your child. If you search well, you will be able to get your hands on anarkali salwars which have presently taken the fashion world of women by storm. They are quite popular with kids and grown-ups alike. Otherwise, you can opt for plain churidar suits or patiala suits as well. Churidar is a tight legging while patiala is loose harem-style pants which can be worn with a comfortable shortish suit or shirt.
But if you want to go all glam, lehenga choli is perfect for your kid. This particular outfit with a sparkly top and a full skirt is very gorgeous and extremely easy to carry as well. Your daughter can play around as much as she wants if she wears this, but without having to compromise on the looks factor.
Another great option for an Indian outfit for kids is the saree. While many of you may think that it is a hassle both for you who has to tuck the various parts in for your daughter as well as for your kid who has to carry it, but trust me it is not. These days, kids sarees are available in pre-stitched format and that takes away all the problematic factors. Easy to wear and easy to carry, these are perfect options.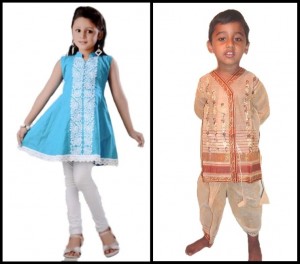 Outfits for the little prince
These days, even boys have plenty of options for dressing up for some occasion. If it is a garba you are planning to attend or some other Gujarati function, you can opt for garba outfits. You may have to search for it a little bit but they are not that unusual and are quite easily available. For Bengali functions, nothing looks quite as good as wearing dhotis and these days, these dhotis come pre-stitched like the pre-stitched sarees. They, in fact, resemble trousers with elastic bands at the waist or the harem-style pants that many women wear these days.
If you are planning to make your child look like a prince, a classic sherwani or fancy kids kurta pajama is the best choice for you. Options are almost as vast as those available for grown-ups and you can team them with dupattas to add to the royal look.
So, what is it going to be for your little prince or princess? Think well and buy accordingly on the perfect Indian outfit for kids online.