Sweets – The Essence of Indian Food Culture
Sweets are something that an Indian cannot live without unless and until one is unfortunately diagnosed with high sugar levels! Seriously speaking, be it breakfast, lunch or dinner, a piece of Kaju Katli, Gulab Jamun or Jalebi at the end makes the meal complete. Such is the taste of Indian sweet dishes. If you have a sweet tooth, ordering Indian sweets online is very common.
From north to south and east to west of this colourful country, sweets form an integral part of Indian food culture. From Holi, Dusshera and Diwali to marriage ceremony, birthday party and wedding anniversary, every festival and celebration loses its charm without a single sweet dish. Any religious observance is considered incomplete and inauspicious without it.
So, what are the exotic sweets that are must to taste while on a trip to India? In simpler terms, we are going to list the most scrumptious Indian sweet dishes one must savour to treasure an ultimate gourmet experience.
Sweets prepared with dairy products
The use of dairy products in churning out sweet dishes is quite common in the country. Khoya is one such common dairy product. Kaju Katli, Kesar Barfi, Gulab Jamun are the examples of sugary delights prepared with khoya. The first two are dry sweets while the last one is presented with sugar syrup. I have tasted them all and I bet you cannot have just one! When you are on an incredible journey of tasting Indian sugary delicacies, make sure you do not miss out on Kheer, an awesome sugary treat made of milk, rice and jaggery. Have it with parathas. You will love it as I can say from personal experience.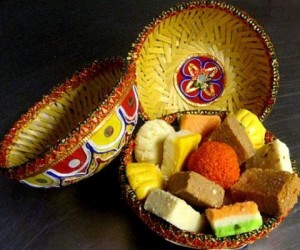 You may think it may not be a sound option considering the online mode while purchasing sugary treats that are dipped in sugar syrup. But, let me tell you, it is not a wrong decision at all. The sweets are packaged well and they will reach you sans a single damage. So, order Indian sweets online without any worry.
Sugary treats made with flour
Gujia is like a necessity in any religious occasion in India. It is made of flour and also contains coconut which enhances the taste. The main ingredient in preparing gujias is flour. The quantity of flour needs to be exact to dish out perfect Gujias. Other examples are Rosogollas, Jalebis and Malapuas dipped in sugar syrup for that mind-blowing flavour.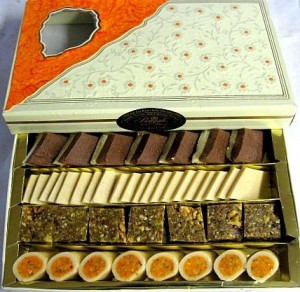 Some examples of dry sugary delights made of flour, suji (semolina) and ghee are Laddu and Modak. Both these are considered favourite of Lord Ganesha. That is why these two are the main offerings during the worship of Lord Ganesha.
Sweet dishes containing dry fruits
Anjeer Bahar, Anjeer Kaju Roll, Anjeer Paak, Badam Katli and Badam Pista Roll are delicious sweet treats containing various dry fruits, such as almonds, cashew nuts, pista, and copra, the Indian term for coconut kernel.
As I have already said earlier, these are a must to relish. So, what are you waiting for? Order Indian sweets online and cherish a memorable gastronomic extravaganza.