Blouse, a Fabulous Part of Traditional Indian Clothing
If you want to get that perfect look in the popular traditional Indian clothing, i.e., a sari, you have to have a nice matching blouse to go with it. Well, a nice matching blouse does not really mean that you have to be all matchy-matchy. It can be something that totally contrasts yet compliments the sari.
When you talk of Indian blouses, you should note that it is totally different from the western idea of the same. It often comes with a deep neckline, and it ends just below the bosom. Just like any other attire, the Indian blouse too has evolved. While earlier it was front or back buttoned and came with a U or V neck. Thanks to Bollywood, several kind of new and trendy blouse designs have come up in the past few years. Be it fabric, neck pattern and sleeve pattern, designs have evolved a lot. Even the age old U neck has become much deeper, and is often held with a brooch on the back. In fact, the blouse has become so important that today it is the focal point of the entire attire.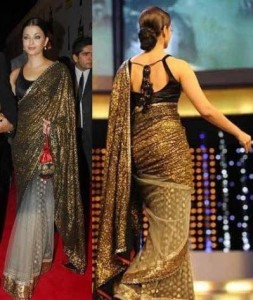 The reason behind this is that a blouse shapes the entire look of a sari. The latter may be very pretty, but if the blouse is a tacky one, then God helps the wearer! These days, women do not shy away from experimenting with the neckline of blouses. They are always ready to pair their pretty saris with even prettier blouses.
The market of traditional Indian clothing is flooded with ready-made blouses to match your sari. However, if you are someone who prefers to wear custom stitched blouses, you can always get the designs that you like. You can also replicate the design of a fashion designer that has caught your eyes; but cannot get it because it is too expensive.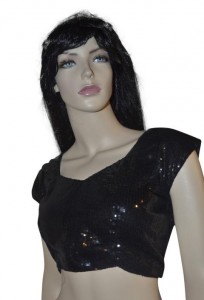 Now, what are the design patterns that are in? Well, the choice in this case is endless. Choli back, halter necks, butterfly sleeves, full sleeves, bikini blouse, one shoulder styles, tie-back designs, etc. are making news these days. Not only have the cuts changed, so has the fabric. Ideally, the sari and the blouse should be of the same material. If the sari is silk, the blouse also has to be of silk; but that is not happening these days. Instead, mix and match is going on. You can very frequently get to see a net sari being worn with a silk blouse. Similarly, you get to see embroidered, beaded, mirror work, sequins work, printed and solid coloured blouses. You just need to have the sense of what looks good with what and you can easily make your own style statement.
However, having said all about new trends and styles, it is important to mention that the basic U cut blouse has not gone out of fashion and will never go either. The reason behind this is that it is timelessly elegant. Another such design is the airhostess cut blouse. The unique factor about this design is that it has a fully covered back, and its front is open and can be conjoined with buttons and hooks.
So, the next time you plan to drape a sari, make sure you experiment with the traditional Indian clothing, the blouse. You will surely grab a lot of eyeballs.