How to Wear Jewelry the Indian Way?
The relation between women and jewelry is quite old and goes back almost to the very beginning of civilization. The remains of Indus Valley Civilization and Egyptian Civilization have all shown the presence of various types of jewelries. This tradition has not suffered much and women are still as connected with it as before. In fact, with the growth of technology, the world has become a much smaller place and people are becoming more and more aware of the various kinds of accessories that can be worn to make themselves look good and stand apart from the rest of the crowd. India, with its vast and rich tradition has a variety of Indian fashion jewelry which is worn for various occasions. No wonder, it has made its mark globally. Various regional influences have made each of them different and unique. If you want to 'jewel-up' the ethnic Indian way, following are types of ornaments that you must try.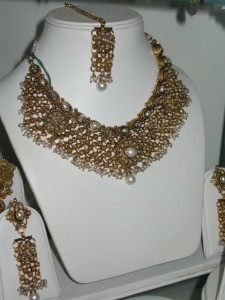 Kundan- The craft was introduced to India during the Mughal period and with time Rajasthan became the hub of this art. Kundankari is popular all over the world and is done on silver and gold. The impeccable stone setting lends an overall royal aura to this. Each of the members of the team is entrusted with a particular form of work to help complete this work of art. It can comprise of various kinds of stones such as agate, jade, emerald, garnet, topaz, ruby, amethyst, etc.
Jadau- This unique specimen of exquisite craftsmanship is predominantly seen in Gujarat and Rajasthan and was actually brought here by the Mughals. This unique and traditional piece is mostly worn during auspicious and traditional occasions such as festivals and marriages. A piece of jadau is composed of kundan, real diamonds and meenakari work- all carved in gold. It is quite complicated to craft each piece and involves a team of gifted craftsmen.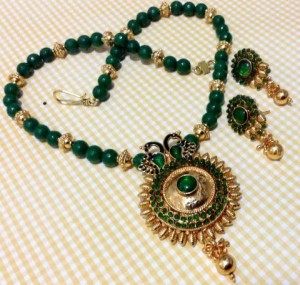 Meenakari- In this kind of Indian fashion jewelry setting of precious stones are done and then gold helps in enamelling. Historians suggest that Amer's Raja Mansingh introduced this art to Rajasthani artisans. This is a beautiful amalgamation of local Rajasthani craft with that of Lahore. Its level of intricacy calls for high skill. It generally comprises of designs of birds, flowers, fish, etc. Various kinds of colours are used which make each piece colourful. This makes it extremely popular since it can be worn with almost any kind of outfit.
Antique- The look of this kind of jewelry is rough and dull and possesses an old-world feel. The genuine ones are quite old and available in curio stores, antique shops and auctions. They can be available in expensive as well as non-expensive metals and valuable and semi-valuable stones are used.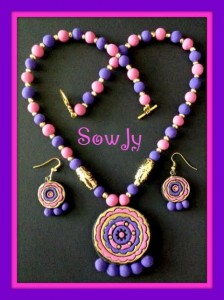 Filigree- Another popular form of accessory, it involves very thin and intricate wires which are bent and twisted to craft various pieces. It is an extremely sophisticated piece of art and really popular.
The rich tradition and culture of India has contributed to a huge variety of Indian fashion jewelry. There are many more varieties which can be found in various corners of India. With so many options out there, no wonder Indian women are spoilt for choice. You too can try out as many varieties as you want. You will surely get a piece of ornament of your choice.