Popular Jewelry Trends at Present
It is hard to find a woman who does not like to wear jewelry. Whether it is a formal event or a casual affair, jewelry is indispensable for a complete look. Some prefer trendy modern pieces while some have an affinity towards traditional styles. It is worth mentioning that buying ornaments have become much easier with the emergence of several online stores offering a variety of neckpieces, earrings, bracelets, bangles and more of good quality at a very reasonable price. You can buy western or Indian jewelry online any time. Every year the fashion world sees various new trends in jewelry designs. Let's know about the trends doing rounds this year.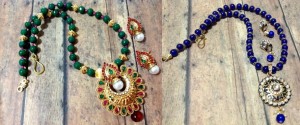 Large-sized trendy jewelry pieces have been very popular this year. Apart from being large in size, they are a bit heavy too. If you are bored of wearing small-sized and light ornaments, you can try out something new and in fashion. These pieces are made of atypical and astounding stones like, topaz, tourmaline, garnets and opals. These stones are bright, beautiful, vibrant, extremely stylish and not much expensive like sapphires, emeralds and rubies. You can find stunning necklaces, pretty earrings, dazzling rings and nice-looking bracelets in this design. Since they are a bit larger and heavier than other trendy pieces, it does not mean you can pair them up with casual dresses only. Get hold of some elegant pieces to sport them with formal attire.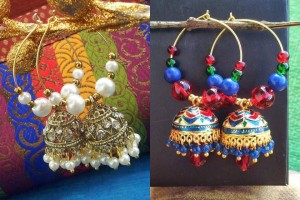 Do you love to wear colorful ornaments matching your outfit? Vivid and vibrant jewelry are much sought-after this year. It is great to see that Indian jewelry is also embracing this trend. Indian brides are going for multihued ornaments rather than choosing traditional gold and silver pieces with no stone work. You will be mesmerized by the collection of vibrant Indian jewelry online. Whether it is necklace, earrings, bangles or rings, you can find each of them in a wide range of colors, such as bright pink, brilliant blue, dazzling emerald green, spectacular purple and many more flamboyant hues. When you have so many choices of color, you can pick up a piece complimenting each outfit in your closet.
Are you fed up of wearing studs and ethnic earrings? Then, you may find the new designs of hoops, chandeliers and dangler earrings interesting and fashionable. These three are very much in style especially amongst college goers, but office-goers are also teaming them up with their formal attire quite discerningly. Amethyst, garnet, pearl, topaz, amber and peridot are being mainly used in crafting these pieces. You may also like danglers, hoops and chandeliers in sterling silver.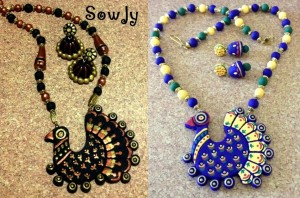 Choker necklaces have made a comeback this year in varied designs. You can choose among pendant chokers, single band chokers, strand chokers and collar chokers. Pendant choker necklaces are high on style quotient. Pendants are hung on a leather string or a metal chain. The cord is kept simple so that the pendants made of precious stones take the spotlight. Single band and strand choker necklaces do not have any pendants. On the other hand, collar chokers are made of leather or fabric. They look simple yet stylish.
So, currently these are the top jewelry trends. Order for the new and trendy Indian jewelry online and flaunt a fresh style.