Holi – The Fun Spring Festivity of Vibrant Colors
Indian culture and traditions are loved across the world. The cheerful nature of Indians is adored by everyone and the fact that Indians are always ready to celebrate every auspicious occasion of their lives with great pomp and grandeur make them more lovable. In this vibrant country, innumerable festivals are celebrated throughout the year and one of them is Holi, the festival of colors. A variety of colors in powder form (gulal) are used to celebrate this delightful fiesta. Family, friends and near and dear ones smear each other's face with powder colors. In this digital age, people are hooked to online shopping. Many purchase Holi color powder online.
Holi – A Stunning Spring Carnival  
This colorful festival is observed on the full moon day in the month of March (Phalgun). This carnival is celebrated across India in various names, but with the same enthusiasm. Holi is popularly known as the spring festival as it takes place in the spring month of March or Phalgun. In fact, Holi marks the arrival of spring, the season of bloom. With the festival of colors, nature bids adieu to the gloominess and dryness of the winter season and embraces a vivid and vibrant look. Trees liven up with fresh green leaves, flowers blossom and fill the air with a wonderful aroma and the lush green fields promise a good harvest to the farmers.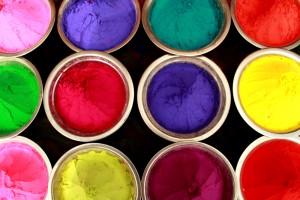 Holi indicates the advent of spring and people make merry of this event by splashing gulal or dry powder colors and gorging on sugary and spicy delicacies.
Holi – A Fantastic Fair of Colors
The use of pink, red, yellow, green, violet, blue, purple and many more bright hues make Holi the most vibrant and spectacular fiesta in India and round the globe. Earlier, only aabir, a saffron red powder color was used in this celebration. But, today, various colors have become a part of the festivity. In course of time, more and more people are becoming conscious about using eco-friendly Holi powder colors. Chemical colors are extremely harsh on skin and they can cause a lot of minor and major skin troubles. Nowadays, eco-friendly powder colors are widely available. You can purchase eco-friendly Holi color powder online as well.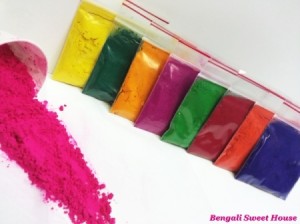 Black and white, these two colors are a strict no-no for use in Holi. Apart from being the symbol of purity and peace, the white hue is associated with bereavement as well. In India, a widow wears white clothes to mourn the demise of her husband. On the other hand, the color black epitomizes evil in Indian customs and rituals.
Holi – A Festival of Great Fun and Good Food
During Holi, people celebrate with not just powder colors. They sprinkle colored water with pichkaris and fling balloons filled with colored water at family members, friends, acquaintances and even strangers. Throwing colors at strangers is not considered an offense as it constitutes the most enjoyable part of the festival. In this celebration of colors, people groove to the beats of dholak and popular Bollywood songs.
Good food accompanies great fun. Everyone grabs a bite of delicious gujiyas, malpuas, laddoos, kaju katlis and takes a sip of delicious thandai which is a must in Holi.
So, in the coming Holi festival, make sure to indulge in enormous enjoyment with your near and dear ones. Encourage everyone to choose from a variety of eco-friendly Holi color powder online.