Buy Indian Costume Jewelry Online To Save Money
Costume jewelry pieces are versatile, affordable, and equally stylish alternatives to more expensive jewelry. By definition, costume jewelry are pieces of accessories that are made out of non or semi-precious metals and stones, making them less expensive, but never less beautiful than traditional jewelry crafted from more expensive raw materials. Costume jewelry designers draw from an entire palette of colors, designs, and inspirations, making these pieces ideal for accenting and highlighting mostly any type of outfit.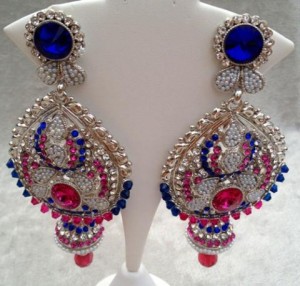 One of the greatest advantages of investing in or collecting costume jewelry is their versatility. Traditional jewelry tends to use minimal colors, gemstones, and metalwork to keep their price affordable. More elaborate designs would often cost you a fortune. Costume jewelry on the other hand, lets you wear outrageous designs at a fraction of the cost of a traditional jewelry of the same scale. Costume jewelry, is available in most any color so wearers can accurately match or accent any outfit.
Styles and designs are also quite varied when it comes to costume jewelry pieces. They come in classic and heirloom designs, as well as more modern and art deco inspirations. Others are retro or vintage in look and feel while more eccentric designs are also available for those with bolder tastes. Indian costume jewelry pieces are excellent statement, makers. They help take outfits and garments to the next level and allow you to express your unique taste in fashion.
You will find good quality Indian costume jewelry from a variety of sources, ranging from actual boutiques to resale shops, department stores, as well as online stores specializing in Indian sundries. If you want to save good money on your Indian costume jewelry, the online marketplace is a great place to look, providing you with an entire range of options that will surely fit your budget.