Diwali – A Joyous Festival for Indians All Over
Diwali is a festival that is celebrated by Indians all over the world. The Hindu Goddess Lakshmi is worshipped on this auspicious occasion. There's the tradition of cleaning the house and decorating it with beautiful and colourful lights. Along with these, the festival of Diwali brings the sense of togetherness as families and friends exchange Diwali gifts and burst firecrackers together. This ancient custom of gift-giving helps in making the familial bonds stronger and deeper as well as accentuating the very essence of brotherhood and love within the society.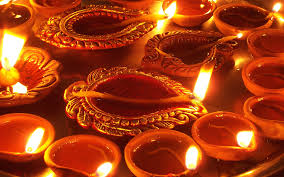 Diwali – its Origin and Worth:
The word 'Diwali' is derived from the word 'Deepavali', which is a Sanskrit word and means "a row of lamps". Hence, it is the celebration of lights and people celebrate it by traditionally lightening some small lamps made of clay that are termed as "diyas" in India. These diyas are the representation of the victory of good over evil, and so it is also the festival that brings good luck, wealth and prosperity.
The Story behind It:
The festival of Diwali is symbolized as the victory of good because it celebrates the coming of Lord Rama to Ayodhya which was his hometown after defeating Ravana, the evil king of Lanka. According to the great Hindu epic Ramayana, Lord Rama was the King of Ayodhya but due to some internal conspiracy by his stepmother, his father had to send him away to live in the forests for fourteen years. But the people of his kingdom loved him very much, and so they waited for fourteen long years for his homecoming.
When finally the time came for his return, the people of his kingdom, in order to honour their king as well as to celebrate his victory over Ravana, lit up the whole kingdom with diyas and decorated it in a grand manner. Once he arrived, they burst firecrackers to express their joy. Since then every year this day is celebrated with great tantrums, bursting with crackers and fireworks and merriment.
When to Celebrate It:
Diwali is also widely celebrated in Nepal. Though the celebration lasts for a different number of days for different communities celebrating it across the world but the main set of days remain the same. It usually falls in the months of October or November. This festival is celebrated exactly twenty days after another sacred Hindu occasion named Dussehra, which falls in the month of Ashvin according to the Hindu calendar.
Whether Indians live in India or the USA – they celebrate this festival of lights with family and friends with the same enthusiasm and for sure by exchanging Diwali Gifts & Sweets.