Indian Kurtis – A display of elegance, ethnicity & design
India is a country that is well liked for its diverse culture, designs and ethnicity all over the world. It has a vast range of attires that are also worn all over the world. Apart from Indian saris, ghagra cholis, and salwar kameez, women are also known to wear a wide assortment of different Indian kurtis that are comfortable and stylish as well.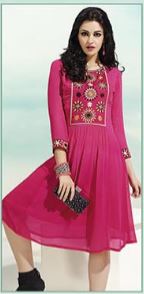 Importance of Indian Kurtis
Indian Kurtis are now predominant in the Indian markets. They are now being worn by young girls as well as old aged women.Not only Indians, but foreign women are also being attracted towards this Indian attire. Indian kurtis provide a traditional look to a woman, they are stylish, comfortable and ethnic. They are a combination of traditional and western culture that can be worn with jeans and salwars as well. Indian ladies wear designer as well as stylish Kurtis because they they are comfortable as well.
They are a comfort and style statement
Indian Kurtis are known to be a statement of comfort and style. They can be worn casually as well as formally. At the same time they are worn in the office as well. Indian Kurtis are convenient to wear and travel in public transport as well and that is why maximum number of college goers and professional women are wearing these. They have an eye striking appearance that helps to turn heads around.
Can be worn anywhere
Indian Kurtis can be worn anywhere. They can be worn in office, in work place as well as in college.You can also wear a Kurti in a party, a wedding or as a casual wear. This helps a woman get an appealing look The best part about wearing these kurtis is that they can be worn by ladies irrespective of their height, size and weight. These kurtis are made in a way so that they complement your looks along with your beauty.
The different kind of Indian kurtis
Indian Kurtis are available in a variety of shapes, sizes and designs. They are available in long as well as short heights, straight cut or anarkali style. Kurtis are made with a variety of fabrics like cotton, silk, wool as well as rayon fabrics. They are available in an assortment of colors and prints with embroidery both in traditional and contemprory patterns on the neck, chest and upper arms. Luchnowi Kurtis which has chikan embroidery have cerated a name for it self. Adding a matching legging to a long kurti can easily convert this versative tunic into a churidar kurta.
Maintaining Indian Kurtis
Indian Kurtis can be maintained easily. Some of the material can be washed at home, whereas some materials need to be dry cleaned. Indian Kurits are available in all leading reputable stores as well as a variety of online clothing stores. They are available in affordable prices, designs, and best of quality.