Just a Cup of Chai Brings back so many memories of India!
We bring to you stories of our community members about different topics that touch their heart. This story about why "India runs on Chai" by Shikha Maggon from New Jersey will remind you of those chai moments with your family.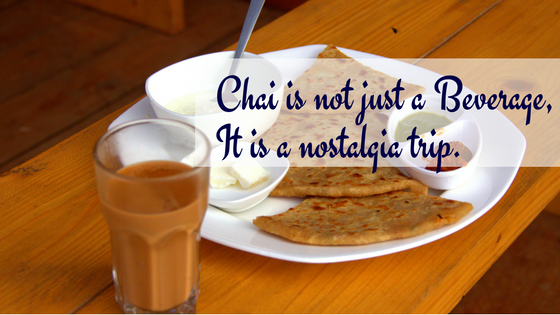 "
There is nothing better than a cup of Tea when you're in India. Many of my American friends ask me that Why I love tea so much? Being an Indian living in America, I have an essence of India in my soul. Tasting up the sip of authentic Indian chai is an absolute bliss. In India, chai means everything. The only thing that I miss in America is Maa ke haath ki Chai. Do you also want to know what Chai means to us? 
As soon as a guest arrives, the Chai starts to boil
As soon as any guest arrives at an Indian home, we prefer to make chai and serve them good so that they feel comfortable. Everyone then haves "chai pe charcha" with samosas and other fried snacks and soon the room fills up with laughter and chitter-chatter. Chai is the cup of happiness that every person from the journey of childhood to an adult remembers and loves.
During Exams, Chai is our fuel
In the crucial time of exams, mothers of India make sure that their child have a cup of tea so that her child wakes up and learn the lessons properly. It helps in concentration, early in the morning and late at night as well. It beats the stress and open up the eyes even when mind is blocked.
Many of us say "I miss maa ke haath ki chai" because that's the only syrup that reminds us of our lovely childhood.

 
At every age, every season, Chai is our best friend
Whether it's summer or winter or rainy season, be it office or college canteen, all the gossip and laughter is accompanied with Chai.  I still remember that during winters, we used to sit for hours outside the college canteen, sipping chai and chatting non-stop.
No matter how much "Latte" I drink at Starbucks, I will always miss Masala Chai
With lack of time and so much work load, we never get time to sit down with friends and family over Chai. All we do is grab a Capuccino or Latte from Starbucks while going to work. 
Sometimes I wish I could devour the lovely aroma of Chai within whatever limited time I have.
Shikha Maggon
———–
"
We understand your nostalgia for Chai and how much you want to devour its flavor. That's why we have worked hard and brought a Chai Machine to our website after careful selection. Our team has personally handpicked the Chai Machine that makes Chai which resembles the taste of Indian homemade Chai. You can check out the Chai Machine here.
We hope we could bring you a little closer to India with this machine. Although nothing can beat Maa ke haath ki Chai, still we have tried we could get a little close.