Buy a Wide Variety of Precious Indian Bridal Jewelries Online
In Indian weddings, the most important thing after an appropriate attire is the traditional Indian jewelry. Indians simply love their jewelry; matching outfit and jewelry is the best combo that can be done by the bride. However, sometimes, it might be difficult to find that perfect piece of jewelry that matches with your outfit. To get rid of that difficulty, you can opt to buy Indian bridal jewelry online, where you can have plenty of options to choose from.
The precious ornaments available online come with a certificate of excellence and authentication which ensures that the product you get is 100% genuine. In fact, it suggests that once you have worn it several times and grown tired of it, you can exchange it and get new ones in the latest designs albeit for an additional price. The certificate ensures that the worth you get is somewhere around what you had actually paid when you first bought it.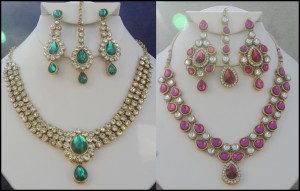 There are various choices available for you. For precious jewelry, gold is the most popular base metal that is used. Depending on the style, sometimes, other precious and semi-precious stones are used to add some color and sparkle to it. You can get hold of sets that comprise necklaces and earrings. Otherwise, you can also opt for mix and match and buy the pieces separately. You can buy rings and bracelets separately to match with the set.
A very popular choice in the case of Indian bridal jewelry is kundan jewelry. They are not too expensive and the most remarkable thing about this type of ornament which also contributes to its popularity is that they are available in various colors. This makes it easy for you to choose accessories that actually match with your outfit perfectly. The varying shades of a particular color can also be taken into consideration while making the selection.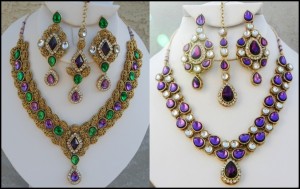 A very economical yet stylish choice is to opt for gold plated ornaments. They look as good as gold ones and you can buy them without feeling a pinch in your pocket. If you think that the plating will not last for long, you may be assured that as long as you buy them from good and reliable places, you do not have to worry about its longevity. The plating ideally lasts for quite a long time if it is of decent quality.
Silver ornaments are also very popular and except a change in color and being more pocket-friendly than the yellow metal, is same as gold in terms of utility. Silver is also considered as asset as its value remains the same even after a long period of time.
Those who do not want to spend too much but want to look equally good but with a modern and contemporary twist should opt for costume jewelry which are extremely pocket-friendly and available in many styles and colors.
Indian bridal jewelry is available for people with various kinds of pockets. Regardless of the price, you will be able to choose from a range of stylish and contemporary designs. This wide variety can be easily accessed online.