Indian Designer Sarees: The Perfect Attire for Weddings
The saree is one of the most versatile types of Indian clothing for women because it can be worn to different occasions, whether for daily wear or in formal events, like weddings. Indian designer sarees for weddings are made with higher-quality materials and come in elegant designs, with bolder and attractive prints. Choosing a saree to wear for a wedding can become overwhelming due to the large variety of choices online, whether you are the bride or the guest. Your choice would usually depend on factors such as your role in the wedding, your body type, color, culture and tradition, and the design or embroidery.
Bridal sarees are considered important in any community, in which the choices typically have bright colors to go with gold jewelry, pearls, and precious stones. Banaras, Uppada, Pochampally, Mangalgiri, Gadwal, Kanchi, and Kanjeevaram sarees are the traditional bridal wedding dresses. These sarees are known for their brightly colored designs with unique patterns, which usually depict foliage, dots, and other distinctive images.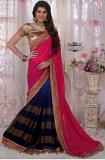 A modern Indian woman is free to choose the style and color of saree to wear for her wedding. Some brides may prefer to pick a saree by color, while others choose a style that agrees with their draping preference or body type. The design and embroidery is an important factor to consider when selecting Indian designer sarees online. If you are a guest, opt for muted or less extravagant styles so you do not have to worry about outshining the bride.
Look for Kanjeevaram sarees if you want to look elegant. They are easy to drape and they look great on tall women. If you are conscious about your height, choose a design with a heavy border or go for a saree with large prints, in fabric like pure silk. If you are short, consider a designer saree in a pastel color or with a narrow border, in fabrics like silk, chiffon, or georgette. Lightweight sarees that are made in fabrics like chiffon, crepe, and georgette and in a dark shade with a light border will look elegant on curvy women.